One of the nation's largest agencies specializing in selling all inclusive vacation packages since 1993.
And NOW - Royal Caribbean & Celebrity Cruises!
LOWER PRICES - NO SERVICE FEES
NEVER PAY BROCHURE PRICE AGAIN! CALL US TODAY AND TELL US WHERE AND WHEN YOU WANT TO TRAVEL and we will reserve your discounted all inclusive vacation package.We can also offer discounted rates on non-allinclusive hotel packages but you must advise us which hotel you want to stay in to receive a discounted price.
Apple Vacations
Sizzlin' Specials! Shop for the hottest deals! Pick your flights and hotel - Click and Go!BOOK ONLINE HERE!
If we happen to miss a topic you love....be sure to contact us! I would almost bet we can locate - or design - a vacation to highlight any interest that appeals to you. Keep in mind that if you don't see your dream vacation on this website, it just means we haven't listed it. There is only so much room, and we've tried to show a few of the more interesting vacations we've run across. Let us know if you saw something else on your own, or an advertisement you ran across, and we will be happy to take care of all the details for you, so you won't have to. And remember...we get paid by the vacation supplier at no extra cost to you. The price you find elsewhere, is the price you'll pay with us, but also remember, our prices are usually better as we have access to unadvertised specials and group deals that you won't find on your own. We deliver personalized service - at "dot-com" prices!
If we can help you with any of your travel plans; be it cruise or land, business or pleasure, groups or individuals, in the U.S. or abroad - just let us know! As your Personal Travel Consultant,
it will be my pleasure and delight to serve you!
Vacation Deals from Chicago
3 nts Riviera Maya Secrets Capri (AI) Aug 23-Sep 13 from $685.00pp
7 nts Huatulco Barcelo Resort (AI) Jul 27,Aug 3 from $895.00pp
7 nts Huatulco Secrets Resort (AI) Jul 27,Aug 3 from $1079.00pp - ADULTS ONLY
5 nts Punta Cana Breathless (AI) Jul 23-Aug 3 from $965.00pp - ADULTS ONLY
7 nts Punta Cana NOW Onyx (AI) Nov 1-19 from $1129.00pp
Please call our office with your travel plans and YOU WILL ALWAYS PAY LESS MONEY THEN YOU BOOK THRU TRAVEL ALL INCLUSIVE!
PUNTA CANA SALE!
This Vacation Package Includes:

Roundtrip airfare
7 Nights All-Inclusive accommodations
Transportation to/from the resort
Meals, unlimited drinks (including alcohol), snacks and more
All government taxes and fees

From Chicago – O'Hare (7 Nights / 8 Days)
Available Departure Dates:
From $1209.00: July 23, 24, 25, 26, 27, 28, 29, 30, 31; August 1, 2, 3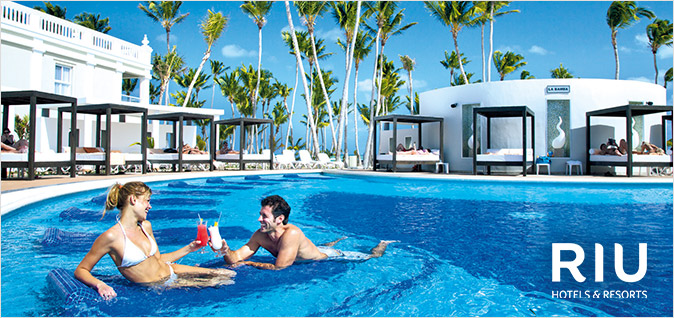 MAKE SOME MEMORIES IN MEXICO
What type of trip are you craving? Want to chill on the beach with an ice-cold beverage? Mexico has that. Want to feel a rush of adrenaline? Mexico has that too. Whatever you're in the mood for, there's a resort and a vacation package to match.
TRAVEL DATES: Now- 04/30/20
BOOKING DATES: Now- 07/25/19
Best of all, book your trip by July 25 and save up to $250 with promo code
Book this Celebrity cruise with us and take advantage of up to 1,000 instant savings, PLUS choose to:
Choose "Sail Plus" or "Sail All Included" and pick from:
Classic Beverage Package


for two

Free Pre-Paid Gratuities


for two

Unlimited Internet


for two

$150 Onboard Credit


per person

(max $300/stateroom)
Book a Suite Class stateroom and "Sail All Included" automatically!
Traveling with family or friends?
Each 3rd, 4th or 5th guest in your stateroom receives HALF OFF their cruise fare!
*Terms and Conditions:
Cruise must be booked July 9th, 2019 through August 7, 2019 (the "Offer Period") only. Offer applies to select 4-night and longer voyages departing September 1, 2019 through May 3, 2021 only. Offer excludes Galapagos cruises.
Offer provides each of the first two guests in a qualifying inside, ocean view, veranda, Concierge Class, or AquaClass stateroom their choice of selecting a non-refundable "Sail" rate (lowest available fare), a "Sail Plus" rate (their pick of two perks) or a "Sail All Included" rate (all four perks).
Guests who select "Sail" will receive the lowest available cruise fare. The following restrictions are associated with selecting this option: a non-refundable deposit booking ("NRDB") cancelled prior to final payment due date will receive a future cruise credit in the amount of the deposit minus a $100 per person service fee. FCC is non-transferable and expires after 12-months from issue date. $100 per person service fee applies to changes to NRDB ship or sail date. Applicable to groups at prevailing rates. Not applicable to incentive, contract, or charter groups. Nonrefundable deposit offers are not applicable to sailings within final payment.
Guests who select "Sail Plus" are eligible to receive two amenities with their choice of two perks: Classic Beverage Package, Unlimited Internet Package, $150 per person onboard credit ("OBC"), or Prepaid Gratuities. For an additional charge, guests may receive four amenities with an upgrade to the Premium Beverage package by selecting "Sail All Included". Rate varies by length of voyage and stateroom category. Guests in the same stateroom must select the same option(s) at the time of booking. Pricing and availability wil reflect on Step 3 of the online booking process.
Classic Beverage Package option includes beer up to $6 per serving, spirits, cocktails, and frozen drinks up to $8 per serving, wine by the glass up to $9 per serving, all soda selections, fresh squeezed and bottled juices, premium coffees, teas and non-premium bottled water, and server gratuities (amount based on gratuity guidelines). Classic Non-Alcoholic Beverage Package includes all soda selections, fresh squeezed and bottled juices, premium coffees, teas and non-premium bottled water and server gratuities (amount based on gratuity guidelines). Terms of Celebrity's Alcohol Policy apply, including a minimum drinking age, which varies by itinerary. Each guest must provide date of birth at the time of booking. Upgrades to a Classic or Premium Beverage Package (if "Go Best" is not selected) are available at an additional charge, plus bar gratuities for each passenger.
Celebrity's Premium Beverage package includes their entire selection of fine craft beers, top-shelf spirits, premium cocktails and wines-by-the-glass up to $13 per serving.
Prepaid Gratuities option provides for prepaid stateroom, waiter, assistant waiter and head waiter gratuities in the amount suggested by Celebrity's guidelines. Gratuities will be applied to reservation within 10 days of booking date.
Guests with internet packages will receive instructions for internet access in their staterooms on the first day of the cruise. The guests' stateroom folio will be credited with an OBC. OBC has no cash value, is applicable to cruise only, non-transferable, not redeemable for cash, and will expire if not used by 10:00 PM on the final night of the cruise.
$150 onboard credit per person applies to the first two guests in a stateroom, up to a max of $300 per stateroom. Does not apply to third or fourth guests.
50% Off Savings: Savings (listed above as "HALF OFF") applies to the cruise fare of the third, fourth and fifth passengers booked in a triple, quad, or family stateroom. All savings are automatically applied and are reflected in the pricing displayed online. Not applicable to cruisetours.
Cruise Fare Savings: Savings amounts are per person and vary by stateroom category: $200 per person (up to $400 per stateroom) for inside, ocean view, veranda, Concierge Class, and AquaClass; $250 per person (up to $500 per stateroom) for Suites. Double Instant Savings Offer applies to select 2019 Holiday departures only. Savings amounts are per stateroom and vary by stateroom category: $400 per person (up to $800 per stateroom) for inside, ocean view, veranda, Concierge Class, and AquaClass; $500 per person (up to $1,000 per stateroom) for Suites. Offer applies to first two guests in the stateroom only and will be applied automatically.
Offer is capacity controlled, availability varies by sailing and eligible staterooms may sell out at any moment. All offers are non-transferable and applicable only to the Qualifying Booking. Changes made to booking may result in removal of offer. Offer is not combinable with any other offer, promotion or discounted rate, including, but not limited to, Exciting Deals, Celebrity's ChoiceAir®, Interline, Senior, resident rates, net rates, travel agent, and employee rates. No refunds or credits for unused options. Offers and prices are subject to availability and change without notice, capacity controlled, and not applicable to charters or contracted groups. Single occupancy bookings are eligible for this offer. Every effort has been made to produce this information accurately; we reserve the right to correct errors. This offer may be modified or withdrawn without prior notice. Additional restrictions may apply.