One of the nation's largest agencies specializing in selling all inclusive vacation packages since 1993.
And NOW - Royal Caribbean & Celebrity Cruises!
LOWER PRICES - NO SERVICE FEES
NEVER PAY BROCHURE PRICE AGAIN! CALL US TODAY AND TELL US WHERE AND WHEN YOU WANT TO TRAVEL and we will reserve your discounted all inclusive vacation package.We can also offer discounted rates on non-allinclusive hotel packages but you must advise us which hotel you want to stay in to receive a discounted price.
Apple Vacations
Sizzlin' Specials! Shop for the hottest deals! Pick your flights and hotel - Click and Go!BOOK ONLINE HERE!
If we happen to miss a topic you love....be sure to contact us! I would almost bet we can locate - or design - a vacation to highlight any interest that appeals to you. Keep in mind that if you don't see your dream vacation on this website, it just means we haven't listed it. There is only so much room, and we've tried to show a few of the more interesting vacations we've run across. Let us know if you saw something else on your own, or an advertisement you ran across, and we will be happy to take care of all the details for you, so you won't have to. And remember...we get paid by the vacation supplier at no extra cost to you. The price you find elsewhere, is the price you'll pay with us, but also remember, our prices are usually better as we have access to unadvertised specials and group deals that you won't find on your own. We deliver personalized service - at "dot-com" prices!
If we can help you with any of your travel plans; be it cruise or land, business or pleasure, groups or individuals, in the U.S. or abroad - just let us know! As your Personal Travel Consultant,
it will be my pleasure and delight to serve you!
Vacation Deals from Chicago
4 nts Riviera Maya at a 6 star Adults Only Resort (AI) Jul 12,17,25,26 from $655.00pp - ADULTS ONLY
7 nts Cancun NOW Emerald (AI) Jul 5,12,17,19,26 from $1079.00pp - NEW RESORT
7 nts Punta Cana NOW Larimar (AI) Jul 9-31 from $1089.00pp
7 nts Huatulco Dreams Resort (AI) Jun 22,Jul 13,20 from $795.00pp
7 nts Huatulco Secrets Resort (AI) Jun 22,Jul 13,20 from $885.00pp - ADULTS ONLY
7 nts Puerto Vallarta at a 5 star Resort (AI) Jul 21,28,Aug 4 from $755.00pp
Please call our office with your travel plans and YOU WILL ALWAYS PAY LESS MONEY THEN YOU BOOK THRU TRAVEL ALL INCLUSIVE!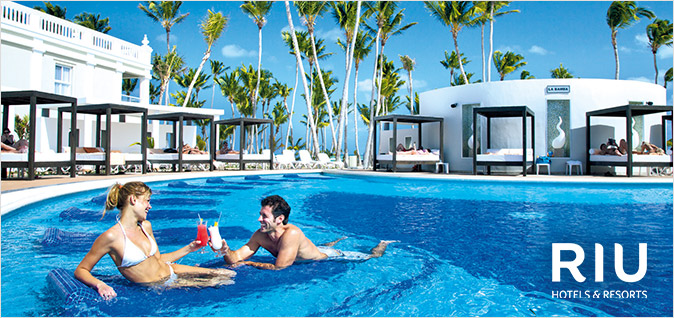 Instant savings + more at RIU Hotels & Resorts.
Book a flight on Southwest + RIU Hotels & Resorts vacation package of three nights or more, and save up to 60% and get up to $300 in instant savings. Plus, stay four nights or longer at select resorts and get up to $2,190 in resort coupons to enjoy during your stay.
Book: 4/2/19 – 6/24/19 by 6:00 p.m. CT
Travel: 4/3/19 – 11/1/19
One-day advance purchase is required.
Restrictions and exclusions may apply. Resort coupon offer valid at select resorts.